MR. AUGUSTINE ALEGEH, SAN
Former President, Nigerian Bar Association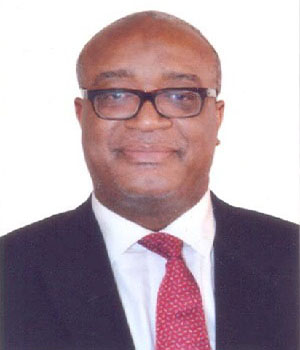 MR. AUGUSTINE O. ALEGEH SAN, FCIArb.[UK], hails from Ikiabigbo, Etsako West Local Government Area, Edo State. He was born on the 10th of August,1964 to the family of Late DCP & Mrs. Matthew Alegeh [Rtd.] in Warri, Delta State.
He attended ST. GEORGE'S PRIMARY SCHOOL, FALOMO, LAGOS for his Primary Education. In 1974 he commenced his Secondary education at ST. PAUL'S SEMINARY, BENIN CITY and was later transferred to EDO COLLEGE, BENIN CITY where he obtained his West African School Certificate ('O' levels) in 1980. He further proceeded to FEDERAL GOVERNMENT COLLEGE, WARRI in JANUARY, 1981 for his 'A' levels.
He gained admission to study law at the prestigious University of Benin in 1981 and graduated with a Bachelor of Laws L.L.B [Hons.] in 1985. He attended the Nigeria Law School, Lagos in the 1985/1986 session and was called to the Nigerian Bar on the 16th of October, 1986. At the Bar qualifying Examinations in 1986, MR. Augustine O. Alegeh, SAN, FCIArb won the Bola Ajibola Prize for Civil Procedure.
Between 1986 and 1989, he cut his legal teeth in the law firm of Sadoh & Co. (Legal Practitioners). In March 1989 following the appointment of the former Principal Partner of Sadoh & Co., as a Judge of then Bendel State High Court, he became the Managing Partner of the Firm, which then became Known as A.O Alegeh & Co. A.O ALEGEH & CO. has Offices in Benin, Lagos and Abuja and presently employs over 50 lawyers and support staff.
He was appointed a Notary Public by the Chief Justice of Nigeria in 1991 and elevated to the prestigious rank of Senior Advocate of Nigeria by the Legal Practitioners Privileges Committee of the Body of Benchers in 2007. He is actively engaged in Appellate Litigation and has argued several contentious matters before the Supreme Court of Nigeria which are widely reported.
He is an alumnus of Keble College, Oxford University, United Kingdom where he obtained a Postgraduate Diploma in International Commercial Arbitration in 2009. In 2010, he was made a Fellow of The Institute of Chartered Arbitrators, United Kingdom.
He was Chairman of Edo State Cricket Association from 1996-2000. He also served as Secretary & President of CRESCENT SPORTS CLUB, Benin City. He is a Past President of the Nigerian Bar Association, Life Bencher, and an active Member of the International Bar Association. He has attended various International and Local conferences.