HON. MR. JUSTICE V. O. A. OMAGE, OFR, JCA
Retired Justice of Court of Appeal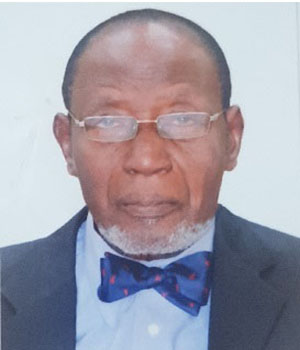 Born in Kaduna on the 28th of August 1939 to Chief Oyesile Omage of Sabongida Ora and Chief Mrs. Olurunfunmi Omage of Ijebu Igbo, Ogun State.
He enjoyed varied education in his early days both in Nigeria and England from 1944 to 1968 to cover the elementary schooling up to University levels. Notably Molusi College, Ijebu-Igbo and later Manchester Grammar School, which saw him through to the University of Victoria (Manchester University) and the London School of Economics in pursuit of a degree in Economics – B.Sc. Economics.
Enrolled at the Inns of Court which enabled him to take the examinations of the Council of Legal Education, School of Law London-UK. His success at the exams earned the award of "Master Joplin 3rd Prizeman" in Contract and Tort and the 2nd prize in "Criminal Law and Procedure". He was admitted to the Inner Temple Inns of Court and called to English Bar (Trinity Term) in May 1968.
He had a brief Legal Practice in England as a junior Counsel in the chambers of Sir Henry Brooks Esq., and Michael Walker Esq. (1968 - 1969).
He attended the Nigerian Law School in 1969 and was admitted to practice law in 1970. He started a private legal practice as a junior partner with J.W.A. Ohiwere & Co in Benin City, before establishing his own Chambers as Victor Omage & Co in Benin. His Practice was robust with several appearances in High Courts, Court of Appeal and Supreme Court. He was a Solicitor to several mercantile companies and also appeared in the "Criminale panale" of the city of Rome to defend some Nigerians.
He was appointed a Judge in 1982 and worked virtually in all the division in the State to perform his Judicial Function. In March 1983, there was a hiatus in his Judicial careers. During this period he set up Consultancy Services wHere legal issues were analyzed and clients advised accordingly. A versatile and prolific writer, he wrote series of articles on the law of Insurance which were serially published by the Nigerian Observer. He also authored four Law books on Elements of the Law of Torts, Digest of the Law of Evidence, and Handbook of Legal Practice, among others, some of which are yet to be published. While he was out of the bench, Justice Omage accepted to serve in various Commissions and Election Tribunals as chairman. He also attended several International Law conferences from 1979 to 1982 in Brazil, Berlin, and Lagos, Madrid etc.
In 1993 Justice Omage was reappointed to the Edo State Judiciary as a High Court Judge. He carried out his duties with dignity and trust in God until November 1998 when he was appointed a Justice of the Court of Appeal (JCA). His postings in this capacity included Kaduna, Ibadan, Lagos, and Port-Harcourt and was given the award of "Ten Years Meritorious Service". He also received a National Honor of Officer of the Federal Republic (OFR) within this period. He retired from the Court of Appeal at the mandatory age of Seventy (70) years on the 28th of August, 2009.
In June 2015, Hon. Justice Omage was appointed a member of the National Judicial Council for five years and is currently functioning in that capacity.