HON. MR. JUSTICE M. L. ABIMBOLA
Chief Judge, Oyo State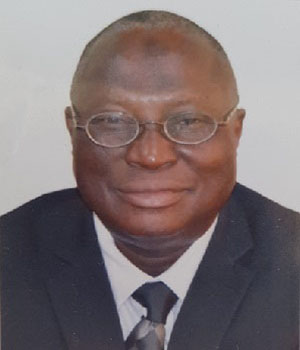 Hon. Justice Munta Ladipo Abimbola was born on 14th January, 1958. He started his Primary Education at KDC Primary School, Kenema, Sierra Leone in 1963, and later moved to Isale Taba District primary School, Saki in 1966, where he obtained his First School Leaving Certificate in 1967.
He attended Secondary Modern School, Saki between 1968 and 1976, and in 1970 before proceeding to attend Sheik Megida Quranic School between 1971 and 1972.
He went on to enroll at Ansar-u-Deen High School, Saki between 1972 and 1976, and he was at Anwar-ul-Islam College, Agege, Lagos, until 1978.
He obtained his HSC and GCE in 1979 after attending Ibadan Polytechnic . He went on to obtain his L.L.B Hons from University of Ife (now Obafemi Awolowo University) in 1982, and his B.L from the Nigerian Law School, Lagos, in 1983.
His Quest for Knowledge did not stop, as he went back to obtain a Masters Degree in Law from the University of Ife in 1993, and a Postgraduate Degree Diploma in Mass Communication in 1995 from Ibadan Polytechnic.
Hon. Justice M.L Abimbola began his work career at the Ministry of Justice, Minna as a Youth Corp in 1983. Between 1984 and 1988 he worked at Moses A. Akinsola and Co. in Minna, Niger State and Alhaji R.A Sarumi and Co. Legal Practitioners, Ibadan, Oyo State respectively. He later established his private Law firm – Ladi Abimbola and Co. from 1988 to 1997 were he was the Principal Partner.
Hon Justice M.L Abimbola was appointed a Judge of the High Court of Justice, Oyo State in 1997 to date. He was later sworn in as Acting Chief Judge, Oyo state in 2014, and as substantive Chief Judge in January, 2015.
He has served on various Election Petition Tribunals, some which include: Member, Governorship Election Tribunal, Asaba Delta State (2006), Member, Election Appeal Tribunal, Oyo state (2008), Chairman, National and State Houses of Assembly Election petition Tribunal, Kano State (2011), Chairman, National and State Houses of Assembly Election petition Tribunal, Makurdi, Benue State (2011).
Hon. Justice M.L Abimbola has served in different capacities on several Legal Committees within the Country. He has presented numerous papers, articles and has published a book titled "Practice Relating to Pre-trial Conference". He also has unpublished books and has contributed to other publications as well.
He has received multiple awards and commendations on his service to the Judiciary and the Nation at large. He is member of several institutions and has attended local and international conferences and seminars.
His hobbies are reading, writing, playing table tennis, watching epic films and mediation.