HON. MR. JUSTICE E. O. AYOOLA, CON, JSC
Retired Justice of the Supreme Court and Former Chairman, ICPC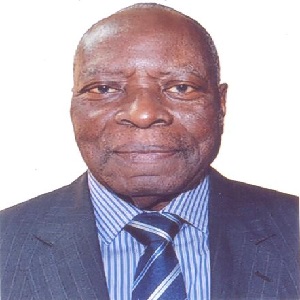 Emmanuel Ayoola was born at Ilesha in Osun State October 1933. He attended Temidirie Model School Ilesha [1944- 1950] for his Primary and Secondary Education respectively.
He passed the Bachelor of Laws Examination of the University of London in 1957 and a BA in Jurisprudence Examination of Oxford University in 1959. He was called to the English Barat Lincoln's Inn, London in November 1957.
On November 25, 1958 he was admitted to the English Barat Lincoln's Inn London. In September 1959, he was admitted as Barrister and Solicitor of the Supreme Court of Nigeria. For seventeen years, he had a private legal practice in Ibadan, Oyo state until February 1976 when he was appointed a Judge of the High Court of Western Nigeria and was appointed a Judge of the High Court of Oyo State. He served as Justice of the Court of Appeal of the Gambia from 1980 to 1983 and was later Chief Justice of the Gambia from 1983 – 1992. He was Vice President of the World Judges Association in 1991.
Justice Ayoola was President of the Court of Appeals of Seychelles, and Justice of the Court of Appeal of Nigeria (1992-1998), Justice of the Supreme Court of Nigeria (1998-2003), and retired in October 2003 at the mandatory age of 70.
On retirement from the Supreme Court, Justice Ayoola, was, in 2004, made Chairman of the Ad-hoc Presidential Action Committee on the Control of Violent Crimes and Illegal Firearms that submitted its report in December 2005. He was appointed Chairman, Governing Council of the National Human Rights Commission in 2005 and relinquished that office when he was appointed Chairman of the Independent Corrupt Practices Commission for a five-year term in 2005. Currently, he is a member of the National Judicial Council and Chairman of the Judicial Performance Evaluation Committee of the Council.
In 2002, the Secretary-General of the United Nations appointed Justice Ayoola a Judge of the Appeals Chamber of the Special Court for Sierra Leone, a court set up to try those responsible for War Crimes Against Humanity during the Sierra Leone Civil War. He has edited the Seychelles Law Digest, the Law Reports of the Gambia, and the Nigerian Monthly Law Reports.
Justice Ayoola is a Fellow of Nigerian Institute of Advanced Legal Studies; Fellow of the Chartered Institute of Arbitrators (Nigeria); Fellow of the National Judicial Institute; Doctor of Civil Law [DCL] (honoris causa) Ladoke Akintola University of Technology, Ogbomosho, (2007); Doctor of Laws [LL.D] (honoris causa) Afe Babalola University, Ado Ekiti.
He was honored with the award of the Gambian National Honor of Commander of the National Order of the Republic of the Gambia (CRG) in 1990; and the award of the Nigerian National Honor of Commander of the Order of the Niger [CON] in 2003.
Justice Ayoola enjoys listening to classical music.