HON. JUSTICE OLABODE RHODES-VIVOUR CFR
RETIRED JUSTICE OF THE SUPREME COURT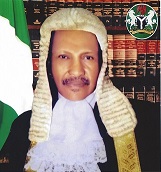 On 22nd of March 1951, a bouncing baby boy was born to the family of Honourable Justice (Chief) Akinwumi R. W. Rhodes-Vivour in Lagos Island. According to customs and tradition, he was named eight days after as Olabode Rhodes-Vivour.
He started primary school in 1956. And quite unusually, he attended three (3) different primary schools i.e. Maryland Primary School, Ikeja, Lagos, St. Msthias Primary School, Akure, and Ibadan District Council School, Oke-Ado, Ibadan, where he obtained his First School Leaving Certificate in 1963.
Between 1963 and 1968, Honourable Justice Bode Rhodes-Vivour attended St. Gregory's College, Lagos. In 1970, he wrote and passed his Advanced Level Certificate Examinations and proceeded to University of Lagos for his undergraduate studies. He graduated from University of Lagos in 1974 with honours, and thereafter he was admitted into the Nigerian Law School, and was called to the Bar in 1975.
As soon as he was called to Bar, he began to practice in his calling and by 1976, he became a Pupil State Counsel, shortly after, in 1978, he became a State Counsel and by 1982, he had become a Senior State Counsel. He was promoted to the position of a Principal State Counsel in 1984 and in 1989, he became Director of Public Prosecutions (D. P. P.) Lagos State, this position he held till 1994.
On the 18th of February 1994, he was appointed to the Bench as a High Court Judge. After many years of experience on the Bench at the High Court, he was elevated to the Bench of the Court of Appeal on the 25th of April 2005.
In 2008 on secondment by the Government of the Federal Republic of Nigeria, he was posted to Sierra Leone Judiciary as a Justice of the Supreme Court of Sierra Leone. At his return to Nigeria, after this posting, he was appointed as a Justice of the Supreme Court of the Federal Republic of Nigeria, on the 16th of September 2010.
He has attended various international and local professional conferences.
He is a recipient of many excellent awards, prominent among these awards are:
An honourable award by Lagos State Government for Outstanding Contribution to the Lagos State Ministry of Justice, 2003.
Lagos State Judiciary Merit Awards in recognition of Invaluable Service to the High Court of Lagos State, December 2003.
Honourable Justice Bode Rhodes-Vivour is a social person, who sometimes relaxes and socializes with friends. He is a member of both Ikoyi and Islands Clubs of Lagos, and his hobbies are reading, watching sports, movies and documentaries.
He retired as a Justice of the Supreme Court in 2021, and was appointed a member of the National Judicial Council same year.
Honourable Justice Bode Rhodes-Vivour is happily married to Mrs. Adedoyin Rhodes-Vivour, and they are blessed with three (3) children.